Sign Essentials
Dealer Profile: Sign Essentials
Sign Essentials was one of the earliest Roland DG Australia authorised dealers, their dealership dating back to the early 1990s. A one-stop shop, Sign Essentials specialises in print and cut, dye sublimation and UV printers, and provides a suite of services to their customers, including: sales, installation, training, support and service. The company's background in hardware means that the team understands the importance of good service and support.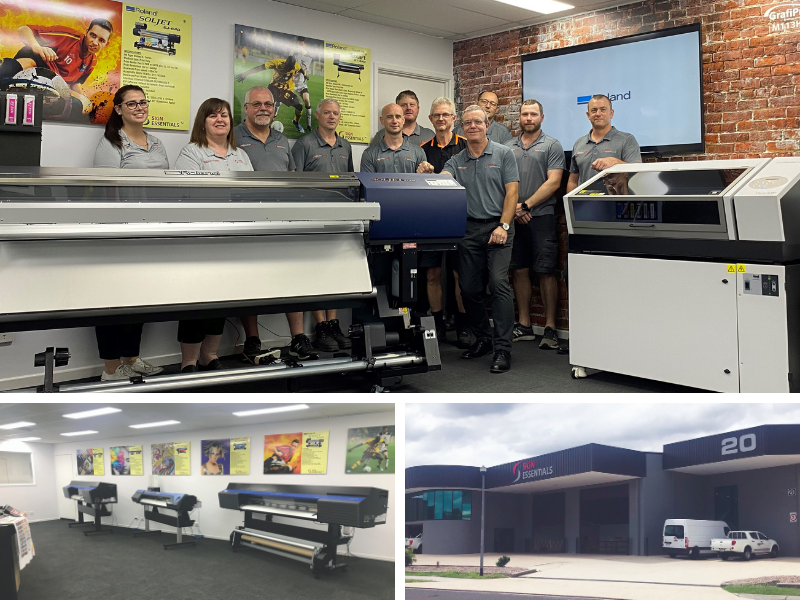 Working with Roland DG
Over the years, there have been a number of product launches that have been a real highlight for the Sign Essentials and Roland DG partnership. The release of the first Roland DG wide format print and cutter, the CJ-70 in 1997, established Roland DG as a real player in the market. In 2003, the big game-changer was the launch of the affordable VersaCAMM SP-300. This printer saw sales skyrocket and it was the beginning of an exciting range of printer cutters that has continued through to the current TrueVIS models. Sean Strange from Sign Essentials commented: "Being a Roland DG Dealer has been, and continues to be, an innovative and rewarding experience. There have been some great new products along the way and… There's always something new to learn and to pass on to our wonderful customers. It's great to see some of the spectacular work produced using Roland DG printers over almost 30 years!"
Industry Outlook
In a time where busy companies need to meet the growing demands from customers in order to keep their business, the team at Sign Essentials has noticed an increase in popularity for Roland DG's latest TrueVIS printer models, the VG2, SG2 and VF2. Sean explained that the extra ink colours and faster curing times gives an exceptional result plus quicker turnaround time for print jobs: "With Orange, Green and Light Black ink options plus 6-hour curing they give customers the best mix of vibrancy and usability."
The demand for printed promotional products for the time-poor business looking to meet the personalisation needs of their customers, has resulted in an increase in popularity for the LEF range of desktop UV printers. Sean notes that the LEF range is "great for promotional products. They can print on almost anything and are very easy-to-use!"
"Customers enjoy the reliability of Roland DG devices... We still have printers out in the field that are more than 15 years old and continue to print great quality."
Feedback on Roland DG's Products
Many of Sign Essentials' customers love the quality and reliability of Roland DG's products, as Sean elaborates: "Customers enjoy the reliability of Roland DG devices… We still have printers out in the field that are more than 15 years old and continue to print great quality. When the devices eventually do get worn out our customers usually come back and ask for the new version of what they had before. The number of repeat customers who have purchased multiple Roland DG printers and cutters tells the story."
To find out more about Sign Essentials, go to:
www.signessentials.com