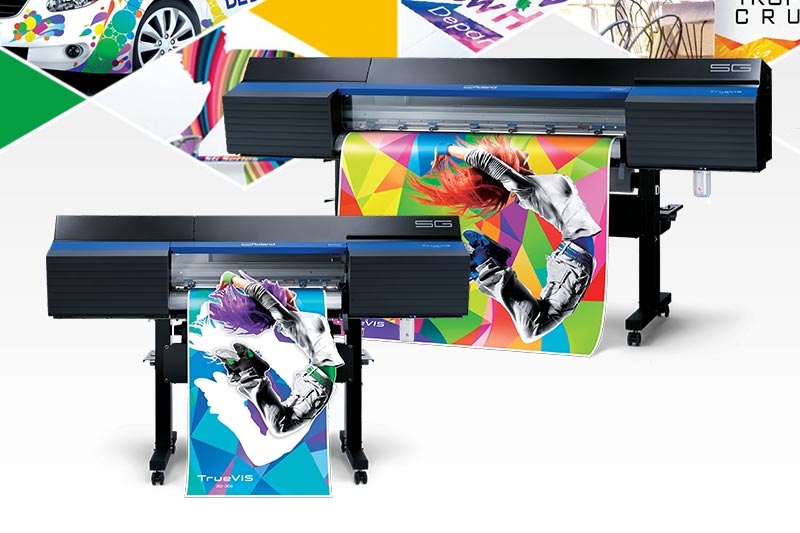 True Colour. True Quality. True Value.
TrueVIS SG-540, SG-300 Printer Cutters
Build an unbeatable business with the TrueVIS SG Series printer cutters. The SG-540 (1371 mm) and SG-300 (762 mm) deliver Roland DG's renowned quality, reliability and cutting-edge features, at an exceptional price.

Representing an exciting new era in outstanding colour vibrancy and advanced print and cut functionality, the TrueVIS SG Series includes user-friendly new features to optimise your wide format print production.

Whether you're just starting out or wanting to expand the profitable range of products you offer, the TrueVIS SG Series can help you get to where you want to be.
Completely Reimagined TrueVIS Technology
Part of Roland DG's next generation TrueVIS family, the SG Series is available in 54-inch (SG-540) and 30-inch (SG-300) models, and comes with a host of advanced features at an exceptional price. TrueVIS SG printer cutters come with two new FlexFire™ print heads for high-efficiency and quality, new cutting technology for increased accuracy and downforce, a Bluetooth-enabled Roland DG Mobile Panel, and brilliant, cost-effective, 4-colour TrueVIS INK.
Bring Your Vision to Life
With the integrated printing and cutting technology of TrueVIS at your fingertips, you can print and automatically contour cut dynamic decals, signs and vehicle graphics, plus brilliant banners, amazing apparel and more. New FlexFire™ print heads deliver vibrant colour and razor-sharp image output that cannot be matched by latex or other devices. Added productivity means you can print more, for increased profits.